SINGING
this news is from abc news...if u want to ceck out more, go to abc news.com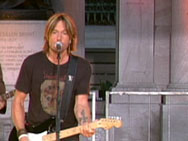 Keith Urban sings during his Summer Concert Series performance. (ABC NEWS)

Aug. 12, 2005 — It's no secret that Australian country music singer Keith Urban is singing. He's sold 6 million albums worldwide, and this year the Academy of Country Music named him Top Male Vocalist. Urban also will be featured in a Gap ad this fall and Country Weekly recently voted him Country's coolist Bachelor.
Urban thrilled fans this morning with his performance of "Days Go By," from his latest album "Be Here," his new single "Better Life" and his smash hit "You'll Think of Me" at New York City's Bryant Park as part of "Good Morning America's" Summer Concert Series. He has been on tour since January with his "Alive in '05 Tour" which will take him through November. Next stop: Wallingford, Conn. His three solo albums have turned out six No. 1 songs and nine top-five hits
Born in New Zealand and raised in Australia, Urban said that it was his father's American music collection of country music that inspired his choice of genre.
"Since I was kid, it was just Nashville," he said. When he was just 8 years old, Urban began winning country music talent shows.
In 1992, Urban finally moved to Nashville. He had a trio called The Ranch, which released one album in 1997, and later disbanded.
In 2000, Urban became a solo sensation with his platinum album "Keith Urban," which included three top-five hits, including "But for the Grace of God." In 2002, his second solo album, "Golden Road" went double platinum and stayed on charts for more than 100 weeks, turning out hits such as "Raining On Sunday," "You'll Think of Me" and "Somebody Like You." He spent eight consecutive weeks at the top of the charts, remaining at the top of the charts longer than any other country artist that year. His most recent album, "Be Here," went double platinum.
NOTE: Neopets is a tradmark and it is illegal to claim their pets and names as your own